Parish information by email
There is now an email account used occasionally for sending urgent information to our parishioners. If you would like to be included in this list, please to send an email to me, the WebMaster (Colin Spiller) and I will include you in future mailings.
Donations to the Parish
STAY SAFE - STAY SECURE
Please be aware that at this time, you and your parish are vulnerable to many dishonest financial schemes being set up by opportunistic companies and 'crowd-funding'. In increasingly financially-straitened circumstances the question is still being asked: 'How do I support my Parish during this time?' In response, this page contains methods of Parish Giving which are recommended as the most secure ways for you to continue to contribute as far as you are able to the Offertory and to benefit your parish.
Happy Christmas to all
Happy Christmas from the parishioners of SS Mary & Monica, Cottingley and Sacred Heart, Bingley. Click this image for the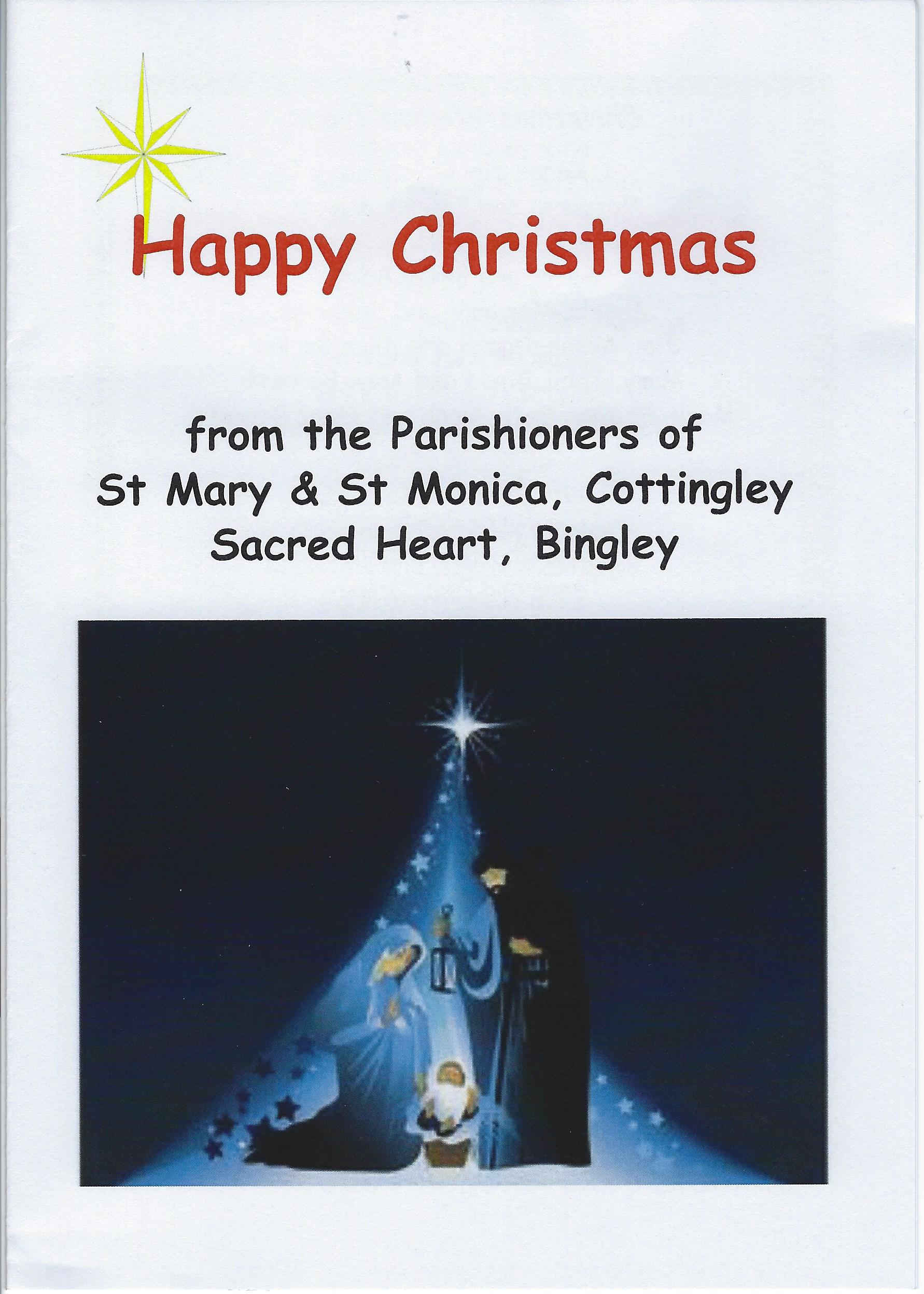 Parish Christmas Card

Bingley Food bank
Your donations are still much wanted! Donations can be made at Bingley Little Theatre (Bingley Arts Centre) on Tuesdays and Fridays between 10.30am and 11.45am.
For the list of items needed now, please see the Foodbank page
CAFOD COVID-19 Disasters Emergencies Committee (DEC) Appeal
CAFOD has joined with the UK Disasters Emergencies Committee to help millions of people whose lives are at risk, as coronavirus spreads across refugee camps and countries suffering conflict. You can donate at cafod.org.uk/coronavirus to help CAFOD scale up its coronavirus response through our global Church family. Or use CAFOD's Summer of Hope fundraising ideas with your family and friends to transform lockdown and raise money for the appeal: cafod.org.uk/summerofhope.
Earlier this month (August 2021), £700 was sent to CAFOD to provide aid in Haiti. Thank you to all Parishioners who donated at the last TWIG collection.
DIOCESE OF LEEDS ANNUAL REVIEW 2020
is now available! Online-only this year - but as ever, highlighting the 'good news stories' sent to communications@dioceseofleeds.org.uk from the many parishes, schools and charities which together comprise our One Diocesan Family. Visit https://www.dioceseofleeds.org.uk/communications/ to download your copy!
MISSIO COVID-19 Appeal
The Holy Father has established an emergency fund to help people and communities tragically impacted by the Coronavirus pandemic. He has asked each one of us to contribute what they can to help the Church overseas, through Missio. Your prayers and gifts are needed now more than ever to help protect the lives of those in poor communities.
Further information is on the website at missio.org.uk/donate/covid-19-emergency-fund/ and from there donations can be made by clicking the "Donate now" button (top right).
CAFOD World Gifts
World Gifts are a range of virtual charity gifts that will delight the people you give them to and help transform the lives of communities and families living in poverty. To view them, please follow THIS LINK to worldgifts.cafod.org.uk
SVP are looking for Volunteers
As a result of Coronavirus, the Saint Vincent de Paul Society has been forced to suspend its visiting activities for the time being.
Instead, they have adopted 'Telephone Befriending' Please see the SVP Page for details.