Aims and Activities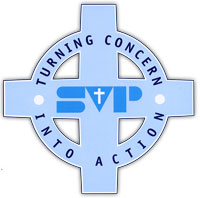 The Society of St Vincent de Paul was founded by students in Paris in 1833 to bring practical Christian charity to the poor of the city. In the present day, members of the Society continue in that apostolate in a manner more suited to our times.
In addition to visiting the sick and housebound and arranging transport to Mass, we arrange Social Evenings in Spring and Autumn to bring people together for a cup of tea, a chat and some light entertainment. At Christmas we have a party for the elderly of our Parish and the local area.
On behalf of the Parish we arrange a coach trip to the seaside in June for our senior citizens. Twice a year, in spring and autumn, we organise a Mass of the Anointing of the Sick.
Click the following links for the provisional calendar of events for 2019 and the report to the Parish for 2018, issued in February 2019.
We support two Conferences of the Society in India, at Buxar in Bihar in the north (See photos) and at Thandrampet in Tamil Nadu in the south.
History of the SVP in our parish
A branch (known as a Conference) of the Society of St Vincent de Paul has been established in the Parish since 1933. When the two parishes were separate, there were Conferences in both Sacred Heart Parish and St Mary's & St Monica's Parish. At one time a Youth Conference also operated at St Mary's & St Monica's Parish.
Following the formation of the joint parish the Conferences have joined together under the original Conference name of the Sacred Heart.
Fund Raising
Our funds are raised by the annual Parish collection, the Great North Run sponsorship of Claire Vincent, a coffee morning, attendance at Cottingley fun day, a social evening for the whole Parish at Crossflatts cricket club, and a bi-annual concert at SS Mary and Monica.
The parish SVP Financial Report for 2018 - 2019 can be seen by clicking HERE
Meetings and more information
We currently meet most Wednesdays between 7.30 and 8.45 pm at Sacred Heart and new members are always welcome. If you wish to join the Conference or find out more about the SVP, please contact Stephen Cook (President) on 01274 495911 (Cottingley), Jeremy Charnock on 01274 569729 (Bingley), David Barrett (Vice President and Treasurer) on 07773 527550, Colin Wilson (Secretary) on 01274 560857 or just come along to a meeting.
For further information, our national website is: www.svp.org.uk/
and the international website can be found at: www.ozanet.org