Baptism

For details of courses in preparation for Baptism, please contact Fr Molloy.
First Communion

Preparation classes for children in Year 3 (and older children) are starting soon at St Joseph's Primary School. In partnership with the parents, the Parish Priest and the School, Catechists prepare children of the parish who are ready to receive the sacraments of reconciliation and holy communion.
Weekly, one hour meetings take place each Wednesday from 6pm to 7pm (during term time) starting on 27 February 2013.
Thank you to our teachers who run these classes each week for freely giving of their time, especially Miss Jones and Mrs Wall.
There was a special Mass of Enrolment held at Sacred Heart, Bingley at the Vigil Mass on Saturday 9 February when the children who are preparing for their First Holy Communion were presented formally to the Parish. Please keep them in your prayers.
For further information, please contact:
Confirmation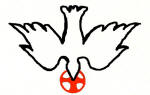 For details of preparatory courses for Confirmation, please contact Fr Molloy. Confirmation preparation takes place withinthe Net One youth group.
Weddings

By appointment. Please note that a minimum of 6 months notice is required.
The website catholicweddinghelp.com has lots of useful information for planning a wedding.